The Web Design Trends of 2023
In the world of web design, you need to make sure that your website is more than just a lovely face amongst individuals and companies that have produced more than 1.8 billion websites that you could potentially land on. It should be designed for usability which refers to how simple your website is to use. You should also focus on an improved user experience which refers to how engaging your website is.
Web design and development have a lot more to do than just looking good. Just because a website looks good doesn't mean it works well with the users. You need to ensure that the site is well optimized as it plays a critical role in influencing users to stay engaged with your website.
Why Web Design is Important?
Your company's greatest asset is your website. It not only highlights the goods or services you offer, but it can also give potential and current customers a chance to interact with your brand. The design of your website should be appealing and represent the personality and spirit of your brand if customers are getting their first impression of your company from it.
Visitors to your website will react to graphics instantly and establish an opinion of your company and its principles within the first few seconds. It is critical to do it right since, according to Adobe, 38% of visitors will quit engaging with your website if it has unappealing content and an unattractive appearance.
The Benefits of Web Design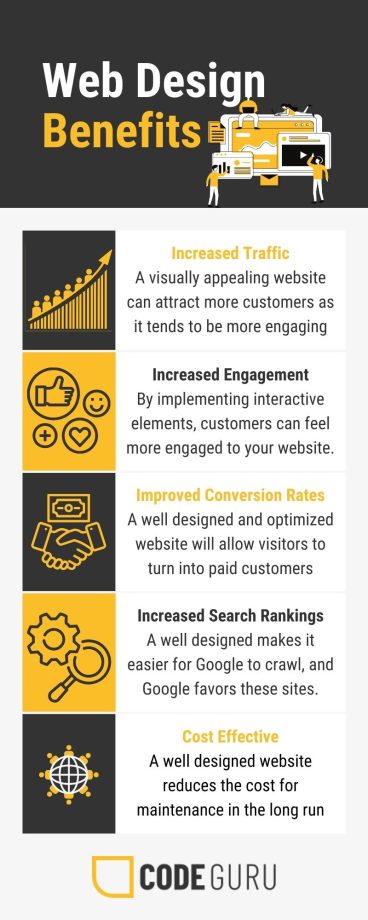 Web Design Principles
Simplicity
Although the aesthetics of your website are important, most users aren't looking to see how slick the design is. They are looking to finish a project or learn a specific skill. Therefore, unnecessary or ineffective design elements will only confuse visitors and make it harder for them to accomplish their objectives.
Web developers in Dubai usually recommend focusing on simplicity rather than adding too many elements to your website. For colors, don't use too much. Web designers in Dubai usually recommend you use five colors and only stick to those. As for graphics, you can add them but it is best not to add them unnecessarily. And lastly, web developers usually recommend maintaining not more than 2 to 3 different types of fonts on the website, it's best to stay consistent.
Navigation
Web developers in Dubai highly recommend that you have a navigational bar so that it's easier for visitors to browse through your web pages on your website. When a visitor enters your website you should ensure that the page is designed in a way so that it's easy for them to navigate to where they need to go. 
Here are some recommendations from web developers in Dubai to improve navigation:
The navigational panel should be straightforward and easily accessible.

Implement the navigation bar at the footer of your webpage

On all pages except your homepage, you might want to employ breadcrumbs to help users remember where they came from.

Add a search bar on the navigation panel so that users can search as per specific terms

Limit the number of navigation options you provide per page. Again, keep it simple!

Include links in your page copy, and be sure to indicate where each one leads.
Consistency
In addition to consistency, web developers in Dubai recommend designing your website in a way that looks and feels good for the visitors. It also creates consistency in backgrounds, colors, and even writing styles can improve the overall user experience.
Not every page requires the same layout and designs however web developers recommend that it be simple and that the fonts and colors be consistent throughout all pages. Visitors will find it easier to identify what content will be on which pages if we use certain layouts for certain pages.
Responsiveness
According to statistics almost half of the users who view a web page are from mobile devices and almost everyone seems to leave the webpage because it wasn't optimized for their device. To create the best user experience your website needs to be optimized for multiple devices that your visitors use. 
A responsive website usually requires flexibility in the website structure. This is to ensure that the content on your website automatically resizes itself to provide the best fit for the visitor's device. This can be performed by creating a mobile-friendly HTML code or creating a separate mobile website.
Web developers also recommend ensuring that websites are cross-compatible. For example, if you've only viewed your website on Google Chrome, it's recommended to check how elements will display on other browsers such as Firefox or Microsoft Edge.
Accessibility
When creating a website, you have to make sure that the website is accessible to everyone. This includes people with disabilities who may find it difficult to access the website. As a web designer, it's your responsibility to ensure that your website is accessible to everyone. Similar to responsiveness, accessibility needs to be applied to the entire structure of the website including all the content that is displayed. These are elements that need to be considered that are recommended by web developers in Dubai for accessibility:
Perceivable: Visitors are aware of and familiar with the information on your website.
Operable: The content on your website is known and understood by visitors.
Understandability: Both the visual and written content on your website can be easily understood by your visitors.
Compatibility: The content of your website is optimized for all platforms and browsers that your visitors use.
Call to action
The purpose of the call to action is to ensure that visitors to the website are interacting with it. The actions could vary from adding a product to your cart, signing up for a newsletter, or even downloading a brochure. To persuade visitors to do this, web developers recommend making the CTA prompts well-designed so that they stand out while making sure it's not very intrusive. 
Web Designing Trends
Scrolling Effects
Scrolling effects are perhaps one of the most well-designed and performed web design components this year because they make web experiences more dynamic. These are being utilized more frequently on interactive websites to entice users to scroll down, indicate a content break, and produce a three-dimensional experience.
Kinetic Typography
Kinetic Typography involves an animation that moves the text and it had become popular back in the 1960s when it was displayed on featured films. The purpose of this animation is to grab the attention of visitors immediately after they enter the website.
For example, Kinetic Typography can be used to highlight important information that can interest the audience as they scroll through your website. Overall, it allows visitors to take in more content much more easily as it is attractive and appealing to the eye.
Cinemagraphs
Cinemagraphics are only one example of the motion-based web design ideas that will dominate in 2023. Cinemagraphs, high-definition films, and smooth-looping GIFs have grown in popularity over the years as a way to add motion and visual appeal to otherwise static pages.
In the past, full-screen loops have been more common, but this year, you'll find tiny animations dotted throughout intricate patterns. It can also enhance visual interest and encourage scrolling in your readers.
Colorful Gradients
You've probably seen your fair share of gradients over the past few years, whether they were used in advertisements, websites, Instagram posts, or anyplace else. Gradients have gained a lot of popularity recently, and 2023 is no exception. Last year, monochrome gradients predominated. This year, they're getting a makeover thanks to the rainbow gradient trend.
Animated Illustrations
As one of the newest trends in web design, more businesses are hiring illustrators and graphic designers to produce custom graphics for their websites. These illustrations are often animated to add interactivity. Animated graphics can be used to simplify complex concepts and give a website some flair. 
Ultra-minimalism
Some designers and firms push the boundaries of what a website should look like by displaying only the bare minimum, taking the idea of classic minimalism to its logical conclusion. Ultra-minimalism can improve load times and user experience.
Sci-fi Inspired Design.
With the increase in popularity of films such as Dune and Transformers the love for sci-fi is increasing all over the world. Sci-fi designs allow us to have a futuristic look on your website. 
This trend has the potential to draw in your audience and establish your company as solidly modern. Technology and science are important components of this style, thus sci-fi-inspired design is especially beneficial for tech firms. Web and brand designs with a sci-fi theme should not be too scared of using color or technological aspects.
FAQ
What are the responsibilities of a web designer?
Web designers in Dubai are usually responsible for building the design structure for a website. It can also include the layout, navigation, and visual elements of a website. Web designers usually require a variety of skills to perform their tasks. Good web designers are excellent communicators who understand their clients and provide them with the best possible website design as per their requirements.
What design tools do web designers use?
Web developers usually use a set of web designing tools which include:
Adobe Dreamweaver:
Adobe Dreamweaver allows web designers to create a website from scratch. You can directly add your code for designs to the website. It can also allow you to create a responsive web design which means that it can be optimized for all devices. Although Dreamweaver requires coding, it does not require extensive knowledge outside of HTML.
Google Web Designer:
Google Web Designer uses languages such as HTML5, CSS, and JavaScript to create digital advertisements. It has a fairly simple and easy-to-use interface. It can also allow you to create elements such as 3D objects and animations easily. If you are experienced in using Google Web Designer you could switch to the graphical interface to create more complex designs.
Adobe XD:
Adobe XD offers a wireframing tool that allows you to draw for mobile and desktop platforms. It also can share projects and get feedback from others. Adobe XD also allows you to use projects from other Adobe products such as Photoshop or Illustrator and import them into Adobe XD.
What are the advantages of a responsive website?
Key benefits of responsive web design are: 
Higher Mobile Traffic

Faster Mobile Development at Lowered Cost 

Lower Maintenance 

Faster Loading 

Lower Bounce Rates 

Higher Conversion Rates 

Simplified Monitoring 

Improved SEO 

Better User Experience (Online & Offline)
Do I need a responsive website?
For sure, you do! According to recent statistics, mobile devices generated a total of 58.99% of global website traffic in 2022. Considering the rise of mobile users, it would be a huge disservice if the website isn't optimized for different screens. In this digital era where a website is the digital face of your company, the site must remain flexible, relevant, and accessible.