A website is essential in deciding whether your business is going to be successful. No matter how old or new a business is, having an online presence is going to increase the chances of creating visibility for your business. When choosing a web development company it is important to make sure they make a responsive, well-designed, and user-friendly website across all platforms to achieve maximum engagement. This is because your website is going to represent your business.
But how do you choose a web development company to build your website? This article will showcase important tips for you to look into when finding a website development company.
Qualities to look for in a Web Development company.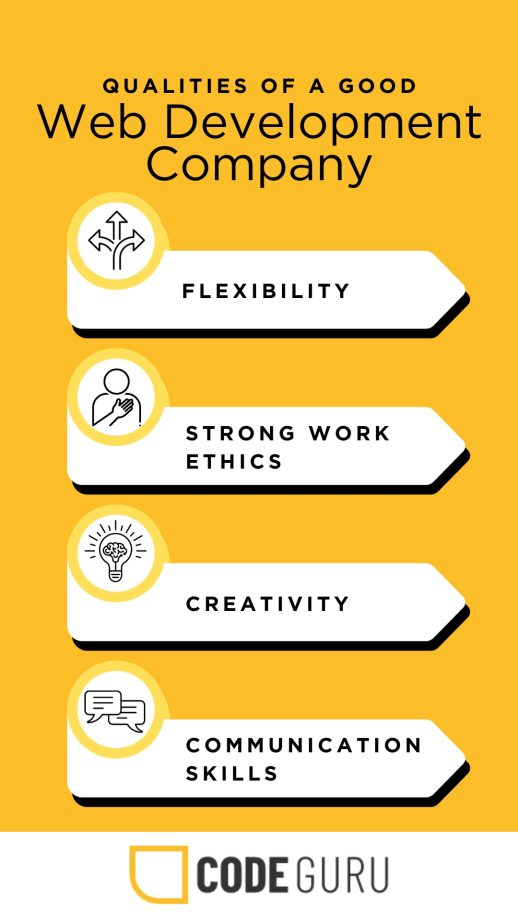 Local vs. Outsourcing
Before going through the tips it is important to first understand whether you want to choose to work with a local or international business. Each has its benefits and drawbacks which will be listed below. 
Pros of local web development team
Ease of communication: When working with web development companies locally, it allows for easier communication and could even allow you to meet the team face to face. If any problems arise they can be reported immediately and responses will be much quicker.
Cultural Similarities: If you plan to develop an e-commerce website for a local audience, a local web development company will most likely be able to have a better understanding of your requirements and provide the best website for your customers. 
Legal issues: If there are any problems with the services that the web development provides it'll be harder to solve those issues internationally but better locally.
The cons of a local web development firm.
Cost: The cost of hiring a local web developer in the USA or Australia would be much more expensive than considering outsourcing options such as countries in Europe. It is also important to note that just because the prices are higher locally doesn't mean the services and much superior in quality compared to the cheaper options. It is your job to do the research and make a decision based on that.
Time: If you want to hire locally, it could be possible that local agencies are busy with other clients and cannot offer their best web developers for you. Local agencies don't always have web developers with the necessary skills and expertise for the development of your website.
The pros of outsourcing a web development firm.
Skills and Expertise: When looking for outsourcing firms you are more likely to come across a web development firm that has specialized in your industry and can help you achieve the best results.
Better management: Specialist web developers abroad will more than likely have a well-established management system in place. They will professionally provide their services ensuring the development is done on time. 
Talent pool: Outsourcing agencies have an open talent pool which means that some developers and specialists could focus on certain aspects of the website that you need.
The cons of a web development firm.
Time difference: If you work with an outsourcing company you would have to be ready to schedule meetings in advance. Because of time zone differences, you should expect communication to be delayed and should expect late replies from the outsourcing company.
Cultural differences: Outsourcing web developers would have a harder time creating a website that matches your culture compared to firms that are available locally. 
How to look for the best Web Development firm?
Know your requirements
When approaching a website development company you need to know your requirements and what you expect from them. You need to list the scope of the work and create a basic framework so the web developer can understand your needs and meet your standards. You could sketch a rough layout of ideas for the website and content that will be published so that the web developer gets an idea of how to develop the website.
Identify a list of web development businesses.
Once you've got a chance to define the scope of your work it would make it easier for you to pick out what type of web developer you would want. Whether it be onshore or offshore developers it's important to create a list of web developers on a spreadsheet. 
You can search for web developers on search engines like Google and get a better understanding of their work and experience by checking their websites. You can widen your search by using platforms such as LinkedIn to get a better understanding of what they've worked on based on their past experiences. 
Understand the type of developers you need.
When it comes to building a website, you need to know what each type of developer specializes in. Website developers often concentrate on either front-end or back-end development, which are the two main forms of development.
Front-end development concentrates on programming that is visible to users and has an impact on how they interact with websites.
The back-end development focuses on developers building the website's invisible framework. Back-end developers typically program the codes that enable the website to function, even though they are not visible. Back-end development duties are typically carried out by web development companies in Dubai using Python, Ruby, and SQL.
On the other hand, full-stack developers work on both the front end and the back end. They can comprehend a variety of programming languages as a result of this. Because of their flexibility, they can take on leadership responsibilities and outperform other developers who exclusively concentrate on either front- or back-end development.
Research
When looking for potential website development businesses it is important to review their previous work. It helps you get a better understanding of how the company can meet your requirements. Look into websites that the company has developed and use online tools to check for website speed, design, and responsiveness. This will allow you to assess their quality of work and expertise in the industry.
While doing this research it is important to check what type of clients the web development company has worked for. This is because some companies may specialize in e-commerce websites while others may work on different websites. Depending on your requirements you can choose a web development company that has focused on your industry.
Check their services.
When searching for web development companies, it's essential to know what services they are offering. Some companies offer great value for their services which can even include SEO and content writing services. These services can be offered before or even after the development of your website. 
Companies that offer services such as digital marketing and software development can help you scale your business and get more traffic toward your website. They could even provide services such as website maintenance so you don't need to worry if there are any problems with your website. These services could help boost your success but it all depends on your budget and requirements.
Check out reviews
In your search for website development companies, it is best to check their reviews and feedback to get a better understanding of how the company has worked toward satisfying its customers. Websites such as Clutch and DesignRush allow us to get insights from customers who have worked with web development companies. It'll give you a better understanding of the quality of work, costs, and customer service of the company.
Final Thoughts
Choosing a web development company is crucial since it is a one-time investment that can make sure your business gets good online representation. One recommendation we would give you is to choose a web development company rather than a freelancer to ensure the development of the website is done promptly. This will make sure that your website is done efficiently and with quality. 
If you're looking to build a website we can help you! Just reach out to us via Email or WhatsApp and we will guide you through the process of growing your business online.
FAQs
What should I look for when finding a web development company?
You should look for the amount of experience the company has and review their previous work so that you can get an idea of how well they develop websites compared to your requirements. You should also have a chance to speak to them and make sure they have good communication channels set up and can provide support when necessary.
How do I check company reviews?
You can check customer reviews through websites such as Clutch or DesignRush to see the thoughts of customers towards these web development companies.
What services are included in the web design and development package?
We offer a wide array of web design and development services, thus making us the best one-stop destination for all your web needs. We offer: 
Website Development 

Website Design & Redesign 

Responsive Design 

Laravel Development 

eCommerce Development 

User Experience & Design 

Development, Integration & Platform Engineering  

Content Management System 

SEO Services [Basic] 

Digital Strategy 

24/7 Support & Maintenance 
What industries do you serve? 
We are a versatile team with experience spanning across several industries. We have successfully served the following sectors: 
Travel 

Lifestyle 

Productivity 

Navigation 

Social Networking 

Health & Fitness 

Business 

Entertainment
What platforms do you build your websites? 
We have vast experience in a variety of popular platforms including: 
WordPress

Meteor JS

Laravel

HTML

CSS

Frameworks

Databases [SQL]

Servers

JavaScript

Flutter

React

React Native 

Vue.js 

Angular 
Can I review your previous works? 
Yes, we are happy to share our successful projects with you! Choosing the right web development company is no easy task and we too promote thorough market research before finalizing your decision. Browse through our website or contact us to view our previous work.
When can you start? 
We are ready when you are! Just give us a call or drop a 'hey' on WhatsApp and we will be with you right away.